Tuesday, June 23, 2009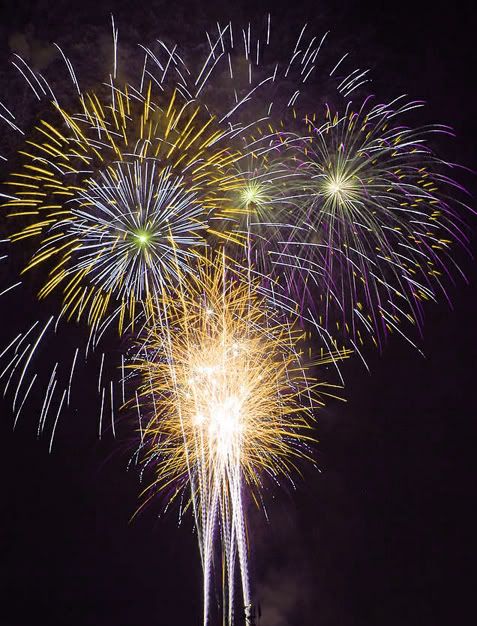 4th of July Cocktail Drink Recipe
1 1/2 ounce vodka
1/2 ounce triple sec
1/2 ounce sweet & sour
1/2 ounce blue curacao
1 dash grenadine
Mix all ingredients, except grenadine, in a shaker and chill. Serve in a martini glass. Add grenadine.
4th of July Lemonade Drink Recipe
1 part Jack Daniel's bourbon
1 part triple sec
1 part sweet-and-sour mix
4 parts lemon-lime soda.
Combine all ingredients and serve this refreshing drink over ice.
Firecrackers Drink Recipe
1 1/2 oz Tequila
Cracked ice
Tonic water
Lime wedge
Pour tequila over the ice in a highball glass. Fill with tonic. Stir and garnish with lime wedge.
Summer Cooler Drink Recipe
6 oz 7-Up
1 1/2 oz Orange Juice
3 dashes Angostura Bitters
Pour orange juice over ice in a collins glass, and add angostura bitters. Fill with 7-up, stir, and Serve in a Collins Glass
Independence Day Punch Drink Recipe
26 oz Rye
2 Bottles sherry
3 Bottles ginger ale
2 Whole oranges — sliced
Pour 2 bottles of the ginger ale into a bundt pan and add some of the orange slices. Freeze and use as ice ring as it doesn't dilute the punch when it melts.
Punch does become smoother as the ring melts. Put orange slices in the punch bowl and add other ingredients. (You may wish to have one more bottle of ginger ale to make the ice ring.)
Make your own HOME BREWED BEER at home this 4th of July!
Celebrate with your friends and family by drinking beer, and making beer!
Order your Home Brewing Kit today to get it in time for your 4th of July Party!
Home Brewing Starter Kits – Home Brewing Ingredient Kits

Star Spangled Jello Shooters
4 c Package Jello (any flavor)
2 c Boiling water
2 c Liquor – any type. (Bacardi always a good choice, or Vodka)
Any flavor.
Dissolve the Jello in the boiling water and let it cool.
Add the liquor. Pour about 1/8 to 1/4 cup into little paper cups and chill.
Squeeze the whole cupful into your mouth–no spoons
or partial servings!
Vodka is the usual first choice, but rum is really good too.
4th of July Holiday Punch
6 c Orange juice
20 oz Frozen strawberries in syrup
2 c Cranberry juice cocktail
3 c Ginger ale
Blend together the orange juice, strawberries, and cranberry juice cocktail.
Add ginger ale immediately before serving drinks.
Makes 18 servings.
Add some Bacardi rum to spice it up a bit!

July Passion Drink Recipe
1 oz Strawberry Liqueur
1 oz Pineapple Juice
1 oz Passion-fruit Juice
1 oz Lemonade

Shake and strain into an old-fashioned glass three-quarters filled with broken ice. Add lemonade, garnish with a sugar-dipped strawberry, and Serve.